Eagle Get Downloader V 2.0.3.8 Stable
EagleGet is a universal download accelerator that supports HTTP, HTTPS, FTP, MMS and RTSP protocols. The application can also download video files from most popular online video websites. Helpfully, the developers have also created an extension for Google Chrome!
Key Features Include:
Accelerate downloads by using multi-threaded technology.
Download online videos from popular sites.
Support MMS, HTTP, HTTPS, FTP and RTSP protocols.
Batch downloads function.
Automatic refresh expired download address.
Download files in Chrome, IE, Firefox and Opera with one click.
Built-in download scheduler.
Verify integrity of downloaded files.
Silent Mode (or Game Mode) function.
Import download lists from other download managers.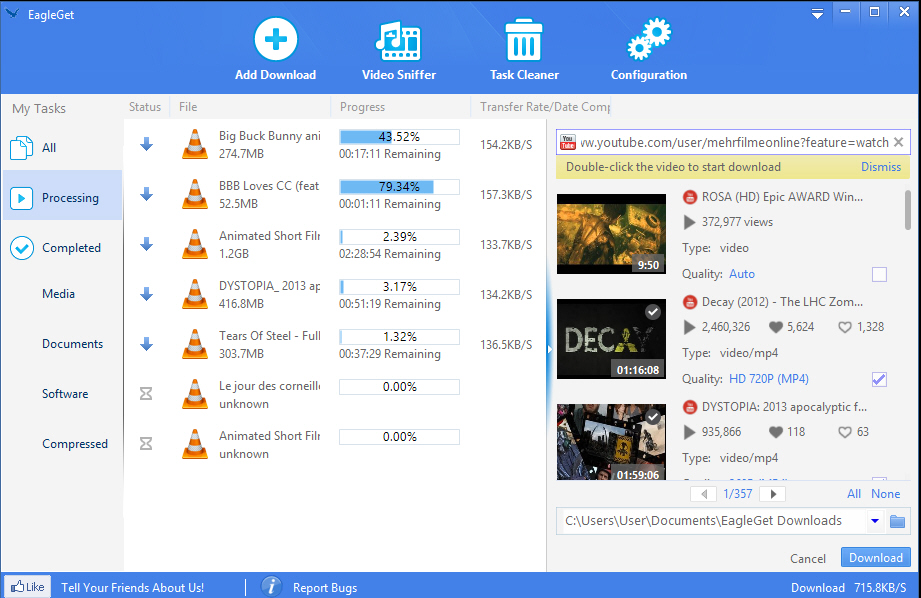 Supports multi-language interface (up to 20 languages).
Compared to your standard integrated downloader, which comes as part of your web browser, EagleGet's download accelerator can increase your downloads by utilising up to 32 threads for each individual download task! This, in turn, can make your download speeds up to 6x faster than using your browser alone.
Title:
Eagle Get Downloader
File Name:
eagleget_setup.exe
Requirements:
Windows XP, Windows 7, Windows 8, Windows 10
* Fixed: Download halted under certain circumstances.
* Fixed: Cannot download from ziddu.com.
* Fixed: Cannot install browser extension to Opera.
* Optimized: Portable version of EagleGet.
* Optimized: Windows driver
* Fixed: Other minor problems.